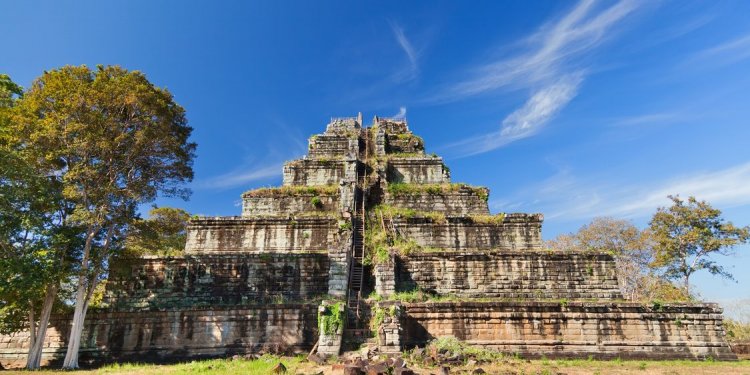 Good places to go in Portugal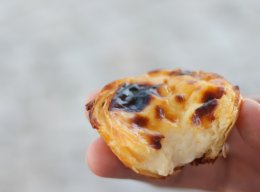 As soon as I completed the Intermediate Cuisine course at Le Cordon Bleu, Arjun and I left Paris for Lisbon. We wanted to spend a week on holiday, something that was overdue considering the city around us had shut down for the summer for the past 6 weeks. I'd wanted to visit Lisbon for a long time. My interest in Lisbon began when I ate my first Pastel de Nata, a Portuguese pastry, at Comme à Lisbonne in Paris, a matchbox sized pastry shop that only makes this one Portuguese treat. Invariably, every time I go there, there's a fresh batch coming out of the oven and they are served warm with a little bit of powdered cinnamon sprinkled on top. The Pastel (Plural: Pasteis) de Nata is a sweet treat made with golden, flaky puff pastry case that holds a rich, egg yolky (but not overtly so) custard that's still quite wobbly. Once the pastry is baked, the top forms a glossy skin, blistered in spots. When I first had it, I went back home and looked up several recipes and tried to replicate it, but the more I delved into my research, the more I realised that a good pastel de nata recipe is hard to come by, and is, in fact, a notoriously guarded secret. Instead, I went back to Comme à Lisbonne and happily bought one pastry served on a paper napkin and savoured every little bite while ambling through the Marais.
So, on to Lisbon. Lisbon is such a pretty city. The moorish architecture, the gorgeous hand painted wall tiles, the brick red roofs and the majestic mosaic lined plazas will make you go shutter crazy. Lisbon is the city of seven hills, and this means that there are lots of steep streets to climb – so wear comfy shoes!
A few things about the way I travel: sightseeing doesn't interest me all that much, unless it's the kind you do at markets. What's of prime importance for me that I have my meals for the entire trip planned out. For this I spend hours researching the places to eat at. In addition to my own research, I turned to Salt of Portugal for some excellent, excellent recommendations, as well as Arjun's Lisbonian classmate.
Getting Around in Lisbon
First, you buy a Viva Viagem card for €0.50 and then top it up with whatever type of ticket you're interested in. You can buy a €6 ticket that let's you use the Metro, Bus and Tram for a period of 24 hours. I believe they also have a more cost-effective 5 day pass, that you can find out about when buy a ticket. Fares here.
Where to stay in Lisbon
While the Bairro Alto neighborhood is where all the action is, we wanted to stay a bit further away (near Rossio Metro). The Bairro Alto neighborhood is known to come alive post 11PM and even when the bars shut down, people continue their party on the streets because, in Lisbon, it's legal to drink on the street! Therefore, not great to get a good night's sleep if you end up staying at an apartment upstairs from a bar. Plus, this neighborhood has more steep slopes than usual, so we didn't want to risk ending up with an apartment we'd have to climb to every night after a day of galavanting.
Favourite Spot in Lisbon
Praça Luíz de Camões – Every evening, we'd invariably end up at this bustling square in the Baixa Chiado neighborhood. We'd buy the local lemongrass (Erva Príncipe) or black currant (Groselha) drink from Quiosque de Refresco (refreshment kiosks) and sip the ice cold drink served in these cool cornstarch glasses, watching the people around us. The kiosque, by the way, is a genius idea that needs to be replicated in other cities.
Favourite Neighbourhood in Lisbon
I think Alfama wins hands down as my favourite neighborhood. It's typically middle-class and as you walk through the district, you literally get to peek into people's lifestyle and homes. You will literally get lost in the lanes and pathways because the tiny streets aren't even mapped on Google maps. This is also the neighbourhood to catch some live Fado instead of the touristy and not-so-authentic Bairro Alto. We ran into this young fellow who wanted a picture taken.
Touristy Fun
TRAM 28: Ride the Tram 28 in Lisbon that takes you through all the famous tourist spots. But careful! It's known for its pickpockets as well.
MIRADOURO: The Portuguese love their city views, so when you see a road signed marked "Miradouro" you know you're not far away from one. Because the city is so hilly, a mere tilt of the head will reveal beautiful views of the city. I loved walking up the stairs from my apartment in the Mouraria (The Moorish Quarter) and perch myself on the steps. Some of my favourite viewing points are: Graça, Jardim de São Pedro de Alcântara – Jardim António Nobre and up from the Santa Justa Lift (using this is also free with the 24 hour transport ticket).
Sweet Things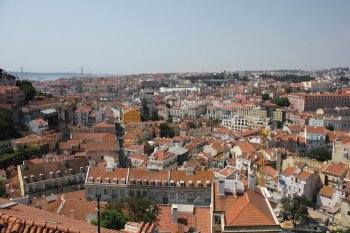 One thing that was clear on this trip was that the Portuguese have a major sweet tooth. Most pastries here are heavy on cream, egg yolks and sugar. Some were a tad too sweet for my taste (but not the Pasteis de Nata, thanks to their small size). Here are some pastry shops, chocolaterias and gelaterias that we visited and liked.
PASTEIS DE BELEM (Rua de Belém, 84-92)
This is the pastry shop for which I made the pilgrimage to Lisbon, and a pilgrimage that was absolutely worthwhile. We ordered a 6-pack of pastries to go and ate them warm at the train station, sprinkled with cinnamon. Watch this.
CONFEITARIA NACIONAL (Praça da Figueira, 18B)
This is an old school pastry shop that's been around since 1829. This one was around the corner from our apartment, so we'd invariably wind up here for breakfast. With no labels on the display shelves, we'd basically point out to the different things to place our order and we'd never know what the filling was, and that was part of the excitement of trying new things.
GELATERIA NANNARELLA (Rua Nova da Piedade, 68)
A super tiny gelato shop in the Principe Real neighborhood, that makes some of the best gelato I've eaten. Quality ingredients, freshly made gelato, and Italian owners made the gelato at par with what I've tried during my Rome Gelato Trail.
SANTINI (Rua do Carmo, 9)
This gelato shop is always packed! So much so that the line for gelato extends to the street and disrupts traffic. They have a huge selection of flavours that changes seasonally.
TARTINE (Rua Serpa Pinto, 15-A)
Portuguese pastries made with the delicate touch of French techniques. We tried their own invention, Chiado (phyllo pastry layered with egg cream) along with Brisa (egg and cream pastry coated with a layer of icing) and Arjun's favourite: a shortbread tart with a layer of apple compote topped with condensed milk.
O MELHOR BOLO DE CHOCOLATE DO MUNDO (Rua Coelho da Rocha 99)
The name simply translates to mean "The best chocolate cake in the world" – the recipe is touted to be kept a secret for the past 20 years. Carlos Lopes make his chocolate cake with mousse and ganache sandwiched between layers of meringue. Good, but I've got to admit, not quite the best in the world and maybe not worth the trip.
PASTELARIA ALOMA (Rua Francisco Metrass, 67)
This pastelaria has won the prize for the best Pastel de Nata two years in a row. Pastelaria Aloma isn't in a touristy neighborhood, so you'll find locals popping in for their coffee and pastry at this modest little patisserie. While there were dozens of pasteis de nata lined along the counter, the waitress went into the kitchen to fetch a warm one for us – such a nice touch.
CLAUDIO CORALLO (Rua Cecílio de Sousa, 85)
Claudio Corallo's chocolate sorbet is what dreams are made of. Even after my return to Paris, I couldn't stop thinking about it. Luscious and velvety, the sorbet is made with nothing but pure chocolate, sugar and water. While here, were also treated to a little session on tasting roasted beans.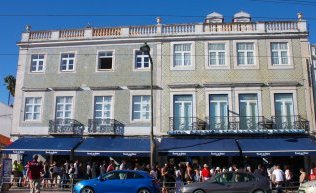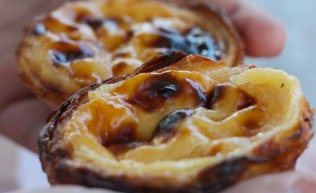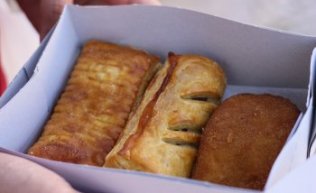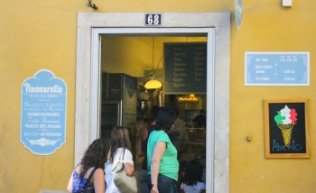 Share this article
Related Posts