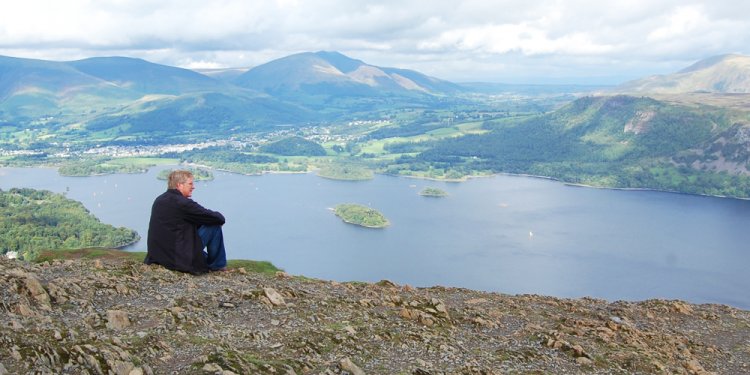 Rick Steves Guide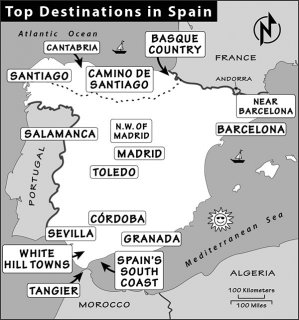 ▲▲▲ Barcelona The Catalan capital, with famous Ramblas people zone, atmospheric Gothic old town, and works by native sons Antoni Gaudí, Pablo Picasso, and Joan Miró.
▲▲▲ Madrid Lively Spanish capital, boasting top-notch art treasures (Prado Museum collection, Picasso's Guernica), an unsurpassed tapas scene, and urban Spain at its best.
▲▲▲ Granada Grand Moorish capital, home to the magnificent Alhambra palace and still-pungent North African culture.
▲▲▲ Sevilla Soulful, flamenco-flavored cultural capital of southern Spain.
▲▲ Basque Country Feisty would-be breakaway region, anchored by the culinary capital of San Sebastián and the iconic modern Guggenheim Museum in Bilbao, with other attractions scattered through the countryside and across the border into France.
▲▲ Toledo Hill-capping former capital, with a colorfully complex history, a magnificent cathedral, and works by hometown boy El Greco.
▲▲ Andalucía's White Hill Towns Classic heartland of southern Spain, famous for its windswept landscape and idyllic towns, including Arcos de la Frontera, Ronda, and Grazalema.
▲▲ Tangier, Morocco Revitalized gateway to Africa, and an easy day trip from the Costa del Sol.
▲ Catalunya Beyond Barcelona Top stops include Salvador Dalí sights (Figueres and Cadaqués), pilgrimage to a rugged mountain retreat (Montserrat), and beach resort (Sitges).
▲ Camino de Santiago Centuries-old pilgrimage route running across the top of Spain from France to Santiago, with stops at big cities (Pamplona, Burgos, León) and charming villages (Puente de la Reina, O Cebreiro)…and plenty of pilgrim bonding.
▲ Santiago de Compostela Moss-covered pilgrim capital, and the top town in green Galicia.
▲ Salamanca Spain's quintessential university town, with the country's finest main square.
▲ Northwest of Madrid Sights ranging from El Escorial (imposing Inquisition palace of Spanish royalty) and the Valley of the Fallen (stern, underground Franco-era monument to the Spanish Civil War) to the pleasant towns of Segovia (with a towering Roman aqueduct) and Ávila (encircled by a medieval wall).
▲ Córdoba Home to Spain's top surviving Moorish mosque, the Mezquita.
Cantabria Rustic northern coast of Spain, featuring world-class prehistoric art (Altamira Caves), the pleasant town of Comillas, and the mountainous Picos de Europa.
Spain's South Coast Spain's beach-resort zone, featuring a few charming towns (Nerja, Tarifa, and British-flavored Gibraltar) tucked away from the concrete and traffic jams of the Costa del Sol.
Share this article
Related Posts