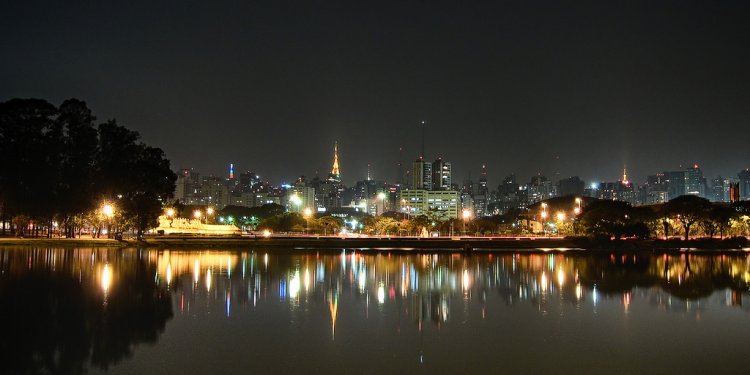 Best time to visit Brazil
Curitiba is a spectacular south Brazilian city and the capital of Parana State. It is 253 miles/408 Kms away from Sao Paulo, 529 miles/852 Kms away from Rio de Janeiro and 186 miles/300 Kms away from Florianopolis.
Best time to go to Curitiba
November to March is the high season all over Brazil, and a good time to visit Curitiba and nearby travel spots.
Obviously there is also disadvantages: from Christmas until Carnival accommodation will be more expensive, and expect crowds and traffic jams.
This period is also the rainiest, and expect temperatures around 77ºF/25ºC or more (and sea water temperatures in nearby beaches around 78ºF/25.5ºC).
June to September is the south Brazilian winter, and this isn't anything like Bahia, Fortaleza or other northern Brazilian tropical and subtropical destinations. Here in Santa Catarina (Curitiba's state) cold is very real. That's not a favorable time for water sports or visiting nearby beaches. Air temperatures can drop to 40-46ºF/6-8ºC (minimum).
April, May and October are transitional months. They can be a great time for visiting the region, but not necessarily for beach holidays in the coastal areas.
Below: graph with monthly maximum and minimum air temperatures in Curitiba.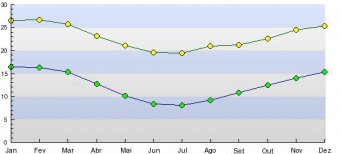 More information
Airport
Afonso Pena Airport (CWB), located 4 miles/7km away from the city. Besides taxis, there are buses available every 30 minutes.
Attractions
Train trip through the Atlantic forest (Serra do Mar) to Paranagu.
Attractions nearby
Florianopolis (sailing, water sports, beaches), Vila Velha Park (rock formations) and Iguassu Falls (the biggest waterfalls in the world)
Hotels
There are many dozens of hotels in Curitiba, mainly in the 3- 4 stars range. In the high-rated but affordable category, hotels like Rockefeller Plaza, Pestana Curitiba or Roochele Park are good options. In the budget category you can consider hotels like Ibis Curitiba or Hotel Centro Europeu.
Curitiba Airport
Afonso Pena Airport (CWB) is located 4 miles/7km away from the city. There are buses every half hour.
Tours
Curitiba has an European-city style and has a higher life standard than the other big Brazilian cities. From it, it's easy to access other Brazilian destinations such as the Iguassu Falls or Florianopolis.
Travel attractions nearby Curitiba:
Florianopolis, Blumenau, Vila Velha Park, Iguassu Falls.
More information:
Share this article
Related Posts